Ann-Louise gave one of her all too rare performances at Park Café in Copenhagen on an ordinary Thursday evening. I have photographed her once before, at Fem-Øren in Copenhagen on 27. July 1997 and those photos will surface some day on this site, when I have them scanned!.

There was some confusion concerning the start time of the concert: Her booking agency said 9:00 P.M., the Park employees claimed 10 -10:30, the bill said 11:00, but actually the band entered the stage 10 minutes past midnight! (That's why I date the concert as 9. May, though it was scheduled for 8. May!). A little strange habit to start that late, which had the result that more than half of the audience left before the concert ended, as they had to get up next morning to do their jobs. Why not just start at 9 and finish before midnight, so all could enjoy the entire concert?
Anyway, for those who stayed it was a splenced experience to see Ann-Louise's relaxed stage performance. Besides being a very expressive singer, she showed perfect "performanceship", backed by her competent band.
I wonder - and have always wondered - why Ann-Louise does not get very much air-play, and still many people have never heard about her? Everybody know Sanne Salomonsen, but not many know of Ann-Louise? I hope that her new album Love In Another Language will make a change to that!
Ann-Louise seemed comfotable on stage, often smiling and showed much intensity in performing her cacthy songs. They really deserves a larger distribution. So if you do not know Ann-Louise's music yet, you should buy her most recent album or go to one of her rare performances.
The set list:

01. Yeah Yeah Yeah
02. Feel My Love (Waiting For My Friend)
03. Where To Go
04. Sleepy Eye
05. I Can't Keep Waiting
06. Run Baby, Run (Halfway To The Sun)
07. Isn't It Love
08. Cry Free Zone
09. No Fear
10. Stick Around
11. Still Wanna See You
12. In Love
13. Can You Tell Me
14. Never Give My Heart Away
15. All I Wanna Do
16. Remember Me
- - - -Encore - - - -
17. Stay (At Home, At Work, At Play)
18. Yeah Yeah Yeah (Reprise)

The Band:
Ann-Louise Mathiesen: lead vo
Hannibal Gustafson: g
Jens Hellemann: g
Morten Jakobsen: b
Jon Grundtvig-Poulsen: dm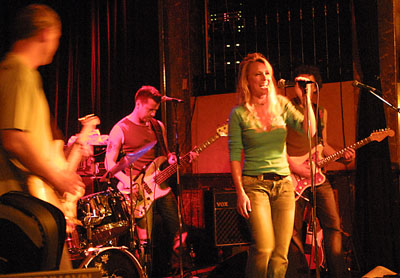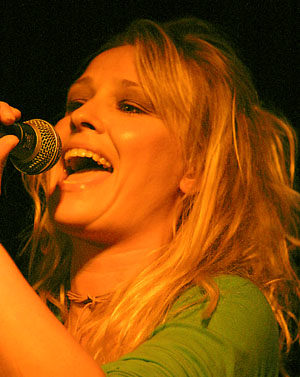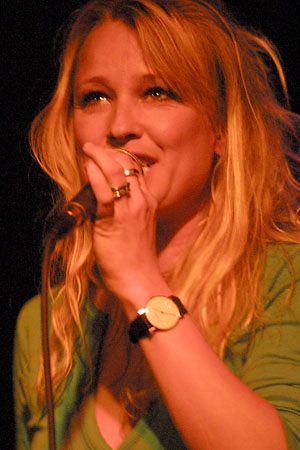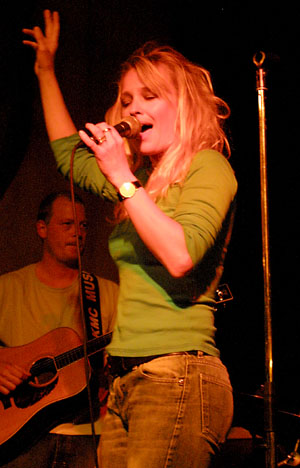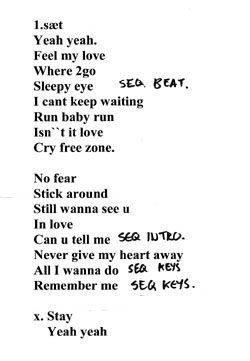 The Park Cafée set list
The three excellent albums of Ann-Louise, all signed by the artist prior to the concert at Park Cafée on 8. May 2003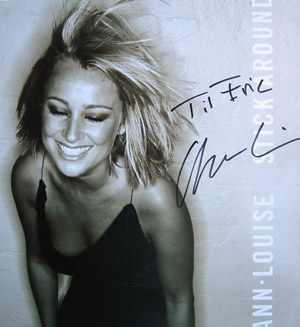 One side of the rare 1999 Ann-Louise Calendar, signed by the artistt at Park Café on 8. May 2003
Photographs by Eric Klitgaard © 2003