Let me disclose from the begining that - from my point of view - Monique is the best female singer we'e ever had in this small country! I saw her first time at her debut concert in Kridthuset in Copenhagen on 7. May 1992, and I have followed her closely ever since. No-one else in Denmark has a voice like hers, and we have to go abroad to find female artists at her level, Tina Turner, Oleta Adams, Anastacia and dare I mention Aretha Franklin, too? So It's a must for me to see Monique whenever she performs within the capitol area - even if its as a solo artist backed by a big band orchestra.
I must admit that big band music is not included in my favorite music style! Anyway, with Monique in front I don't care if it is an opera, a death metal band of a bagpipe orchestra backing her, I would enjoy it anyway!
In Tivoli she sang with Bobo Moreno and on lead guitar in Tivoli Big Band, we saw Søren Sebber, with whom Monique has a duo, and the two of them offers a show together, playing old 1970's / 1980's hits.
Photographs by Eric Klitgaard © 2003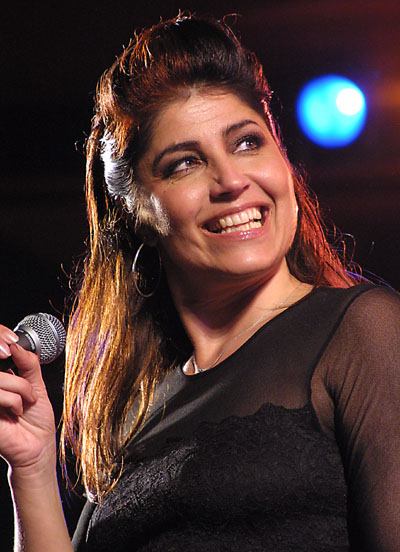 The Set List:

01. American Patrol
02. I Know Why
03. Come Fly With Me (Bobo)
04. Why I Sing The Blues (Monique)
05. Cheek To Cheek (Bobo / Monique)
06. Karen Jønsson I Dag
07. Cabaret (Bobo)
08. Big Spender (Monique)
09. You Make Me Feel So Young (Bobo)
10. Tico Tico
11. Benny Goodman In Swing
12. Love Will Keep Us Together (Monique)
13. New York, New York (Bobo)
14. Patricia
15. When I Fall In Love (Bobo / Monique)
16. Hawaiian War Chant
17. Mills Brothers Medley (Bobo)
18. Fever (Monique)
19. Car Wash (Monique)
20. Mambo No. 5
21. In The Mood
21. You've Got A Friend (Bobo / Monique)
22. Tivoli Boogi Woogie