Though Swan Lee officially played their last gig at their Autumn Tour on 6. December 2002, they performed a 64 minutes long unannounced showcase at Rust on 18. January 2003, at 10 P.M., The Secret Concert, as called by the band. The set up was a mix of the band members performing as DJ's and the set of mainly new songs performed live at stage. Two days after Swan Lee played at Carlton Hotel in Cannes as part of a promotional event for Danish Music. So here we got exactly the same set of songs as later to be performed in France.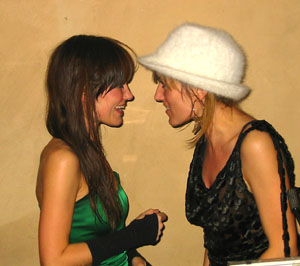 Two sisters. Pernille & Christina Rosendahl. Photo: Eric Klitgaard © 2003

The night started with Pernille Rosendahl's big sister, Christina Rosendahl replaying her favorite records and cd's from the DJ's desk. Christina is the creator of the excellent documentary on Swan Lee's heavy way to the stars, Stjernekigger.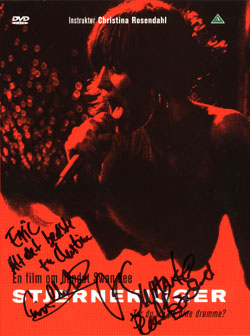 Stjernekigger, dvd cover signed by creator Christina Rosendahl
(top Left), Tim Christensen (left) and Pernille Rosendahl (right).
If you haven't seen it yet: WATCH IT, or buy it on dvd. It's really
a splended documentary on Swan Lee's struggle for acceptance
for their music.

At 10:12 P.M. Swan Lee entered the small stage and gave an excellent performance for the entusiastic audience. The set list contained 12 songs (included the 3 encores), 7 of which were new. Ok, Swan Lee had played many of the songs at live shows during 2002, and the New Order song, Blue Monday, had been released in March 2002 on the Reminder album. But for many of the attented they were first listens.
The set list was as follows:
01. Bring Me Back To You
02. Flowers In The Wintertime
03. I Don't Mind
04. Stay Tonight
05. Perfume
06. Tomorrow Never Dies
07. So Long
08. Take My Love
09. When You Are Gone
- - - (1st Encore:) - - -
10. Blue Monday
11. I Saw You Stand
- - - (2nd Encore:) - - -
12. Do You Know

(The original set list can be viewed at the buttom of this side)
The band are:
Pernille Rosendahl: vo / Jonas Stuck: g, mandoline / Emil Jørgensen: dm /
Eva Skipper: b, add. vo / Jonas Berg: keyb
I Don't Mind and So Long brought me back to the early days of Velvet Underground, with that same intense beat - a kind of sophisticated pre-punk fashion. Swan Lee's music is described as ambitious, cimematic popmusic, combining the 1960's simple tunes with the 1980's female songwriters tradition and modern electrified music. I believe this described the atmosphere in the new songs pretty good as well.
Pernille was charming and flirted with the audience in a wonderful way. Her vocals was beautyful as usual, sometimes almost Björk-like, clear and very expressive. It melted together as another instrument with Jonas' slide guitar.
Take My Love was introduced as the favorite of the band, but for me it was Perfume and two of the encores, I Saw You Stand and the beautiful Do You Know, which was a semi-acoustic ballad with Eva on shared vocals. After having watched Stjernekigger, I realize that the hookline of the latter song could have been a key-thesis for the band's struggle for fame: "I Will Find My Own Way Out" ...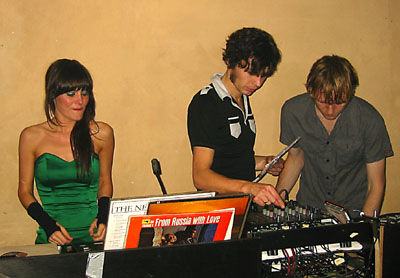 Pernille, Jonas S. and Emil Jørgensen as DS's. Photo: Eric Klitgaard © 2003
After the live set, the Swan Lee band members acted as DJ's and played their favorites from the DJ's desk. Later on they mixed with the audience, which counted many personal friends and colleagues inside the music business. I had a nice talk with Christina and later Pernille. Also present was former Swan Lee keyboardplayer, Tim Christensen, with whom I had a discussion about digital cameras.
Tim Christensen. Photo: Eric Klitgaard © 2003

Christina Rosendahl with friend, Jan.

Photo: Eric Klitgaard © 2003
Ok, this is NOT a gossip site, but I couldn't help taking these series of former Swan Lee keyboard player, Tim Christensen in conversation with the beautiful Pernille Rosendahl. Photo: Eric Klitgaard © 2003
It was a splended night at Rust, and I left about one hour after midnight. As a curio, I met Stine Larsen - lead singer of one of my other favorite bands (Stripclubjunkies) on my way to the night bus. We had a nice talk of 25 minutes about music and much more. She is as kind and sweet as she looks and I didn't care that I missed my bus ...
Below you can see a selection of my photos from Swan Lee's performance. The only bad thing this night was the light show! The main spotlights was in the eyes of the audience and not on the band. The worst conditions for a photographer! That resulted in a lot of out-of-focus pics, as the camera was not able to focus proberly, due to the lack of light on the subject. But anyway, - I got a couple of good shots after all. Enjoy ...
Photographs by Eric Klitgaard © 2003