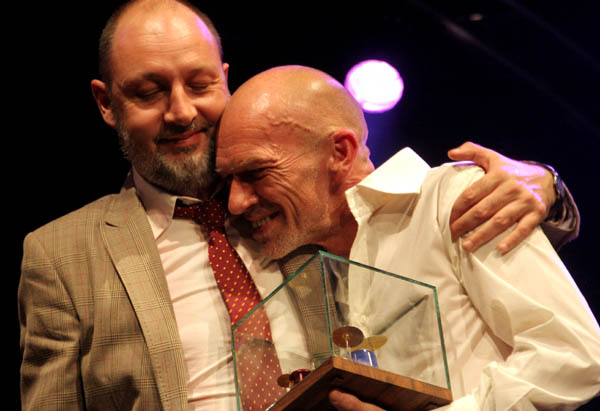 Last year's Award winner, Aske Jacoby, hands over the prize to Per Chr. Frost.

Once again we had the opportunity to celebrate the memory of the late Danish drummer, Ken Gudman. In 2004 guitarist, Aske Jacoby, took the Award (see photos here: Part I, Part II). So it was Aske who presented the prize to this year's Award winner, gutarist Per Christian Frost at a marvellous show at Amager Bio.
Per Chr. has backed a lot of Danish artists and he has been a sideman in many bands, Lost Kids, Lars H.U.G., Malurt, Michael Falch, Thomas Helmig, Lis Sørensen just to mention a few. He has released four albums under his own name, as well.

This night many of his friends payed their tribute to him by joyining him at stage. Michael Falch started the event by giving two semi acoustic songs. Followed by Lis Sørensen, who for me was one of the superb highlights of the night. A wonderfully mature woman with a divine voice. To hear her live version of Verden Er I Farver and Lis' version of Sebastian's break-through song, Når Lyset Bryder Frem, truely was a scoop.
Next on stage was Poul Krebs performing some of his wellknown songs.

Another highlight was to experience the powerful Rock Diva, the continously charming and sexy, Sanne Salomonsen, who also gave one of her hits from way back when we all were young(er), Sui-Sui, and a couple of her newly released songs. How nice it was to see these experienced artists still going strong at such a vivid show.
The Set List:

0A. Esben Just intro
0B. Jacob Haugaard intro
01. Michael Falch: Hvornår Er Vi Der
02. Det Bedste Jeg Har
03. Lis Sørensen: Paseo Con Amore
04. Brændt (Torn)
05. Verden Er I Farver
06. Kun Os To
07. Når Lyset Bryder Frem
08. Poul Krebs: Stjernen på Mercedes'en
09. På En God Dag
10. Lad Mig Følge Med
11. Betty Blue
12. Hør Suset
- - Intermission - -
13. Sanne Salomonsen: Fools
14. For Life
15. On A Night Like This
16. Sui-Sui
17. Jacob Haugaard: Internationale
18. Aske Jakoby: (?)
0C: Per Christian Frost acceptance speech
19. Per Christian Frost: (?)
20. Green Leaves
21: Jacob Haugaard: Sådan Er Kapitalismen
22. Søren Sko: Seen You Fade Away
23. Ashes And Wonders
24. Jacob Haugaard / Esben Just: (?)
25. Henning Stærk: (?)
26. All The Best
27. Jacob Haugaard: Texas' Gule Rose
28. Gnags: Safari
29. De Vilde Kaniner
30. Rytmehans
31. Kærester
32. Burhøns
- - Encore - -
33. Professionelle Ballademagere
0D. Jacob Haugaard: Outro

The musicians:
Michael Falch, Lis Sørensen, Jacob Haugaard, Poul Krebs, Sanne Salomonsen, Per Chr. Frost, Søren Sko, Henning Stærk, Peter AG, Gnags, Esben Just, Morten Woods, Thorbjørn Appehl, Aske Jacoby, Jette Schandorf, Poul Hallberg, Jan Sivertsen, Gustaf Ljunggren, Jan Rørdam, Mads Michelsen, Lars Daugaard, Jens Jones, Ena Egelund, Allan Nagel, Morten Buchholtz, Jens Runge, Annika Askman, Mads Braun (?)
Photographs by Eric Klitgaard © 2005

All photographs on this site are protected by the international copyright laws
and it is strictly prohibited to download and use the photographs for any purpose
without written permission from the photographer