Photographs by Eric Klitgaard © 2003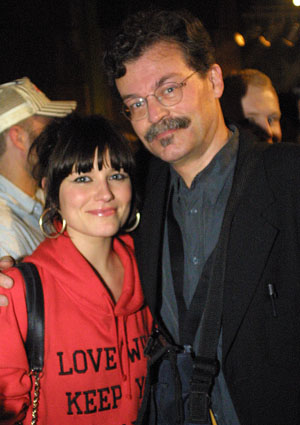 Pernille Rosendahl and Eric Klitgaard
After the show I met Pernille and her sister, Christina, and
Pernille suggested that Christina took a picture of me and herself
Photo: Christina Rosendahl © 2003
Pernille Rosendahl and her sister, the film director Christina Rosendahl
So I took a picture of the two of them ...
Pernille wore a sweatshirt with a print "LOVE WILL KEEP YOU WARM" - the title of one of Swan Lee's new songs from the
their second album, scheduled for a Spring 2004 release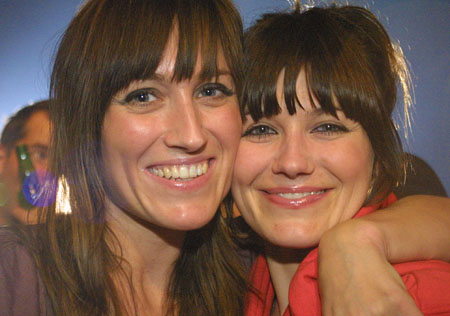 ... and finally the two sisters posing together. Thank you for your sweet kindness!
Maya Albana and Dicte
More talents from the Danish music scene: Maya Albana made in 1999 the most overseen album in Denmark so far.
A masterpiece produced by Thomas Blackman and Kasper Winding. If you ever find it, buy it and enjoy! (see the signed cover
on AUTOGRAPHS somewhere elseon this site). Dicte released her new album "Gone To Texas" just ten days prior to the ZULU Award Show.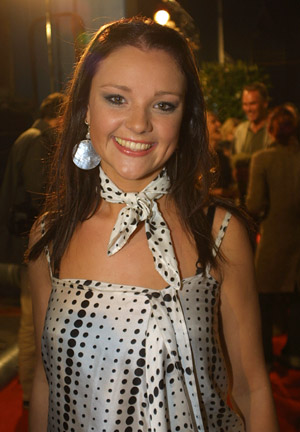 Lise Rønne (Boogie)
Lise Rønne, two days before her 25th Birth Anniversary.
I met her before, during and after the show, and she smiled
sweetly just like in Boogie, always happy - never faking
Mikkel Herforth and Julie Ølgård (Boogie)
No, I did NOT ask Mikkel about his girlfriend! And yes, Julie's voice is as hoarse as on telly :-)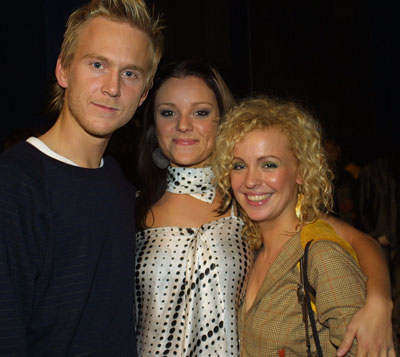 Huxi, Lise Rønne and Julie Ølgård (Boogie)
The Boogie team after a whole night with access to the free bar. You couldn't see it,
... ok, Lise had a slightly problems to keep her eyes open, but anyway she managed
very well! By the away: where was Mikkel?
Sara Bro and Poul Schlütter
The hosts in the classic combination: The beauty and the beast! A young pretty girl and an ageing man. Nevertheless he did a pretty nice job, - the old fox :-)
Sara Bro and Biker Jens
The beaytiful Marilyn Monroe-shaped Sara Bro interviewing the ubiquitous Biker Jens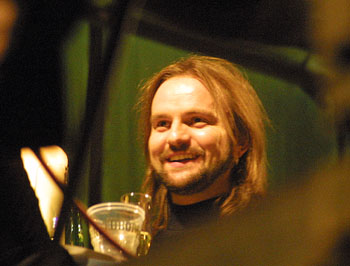 Tim Christensen
The happy three Awards winning genious relaxing in the VIP bar
Julie Næslund and Trine Jepsen (EyeQ)
First I met Julie and I was very supprised that she remembered my name, after only having talked with her once (backstage in
Tivoli at the Julie Berthelsen show on 1. August 2003)! Afterwards I discovered Trine, and finally ...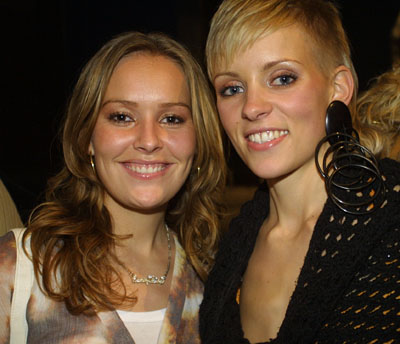 Julie Næslund and Louise Lolle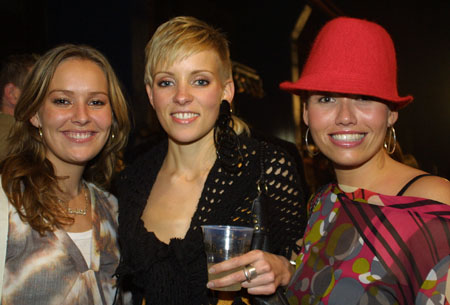 Julie Næslund, Lolle and Trine Jepsen (The three remaning EyeQ members)
Of course I should have the three of them together on the same picture

Julie Berthelsen
Award winner Julie had changed her stage out-fit for the
after party. It was the third time I met this kind and talented
beauty, always willingly posing for another picture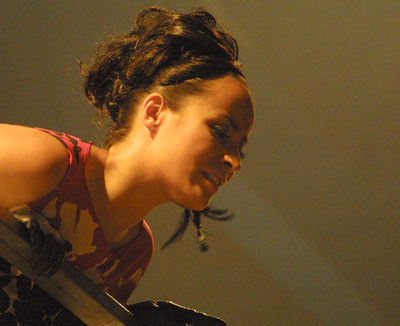 Julie Berthelsen
Right before leaving for the after party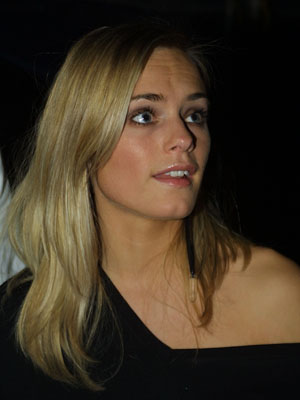 Laura Christensen
ZULU Award nominated Laura Christensen at the entrance
Signe Svendsen and Jokeren
Pics taken at the entrance, - no special connection ...
Iben Hjejle
The charming winner with her Award. My memory card happened to be full, just as I was about to shoot the first picture of Iben.
So she patiently waited till I had loaded my camera with another card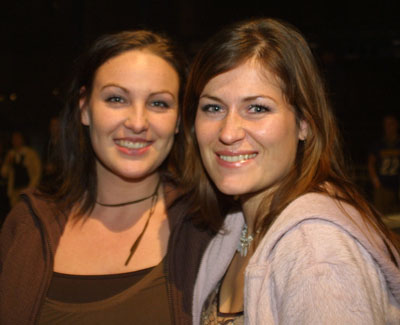 Ninna Cederholm and Nana Klitgaard Danscher (girlfriends)
Ninna to the left is an actress, educated at The Dansh Royal Theatre.
To the right my daughter, Nana, a talented webmaster, shot at the stage side after the show.
The two of them have been close friends ever since their first meeting as three months old babys!
Photographs by Eric Klitgaard © 2003